Centre Bell Seating Chart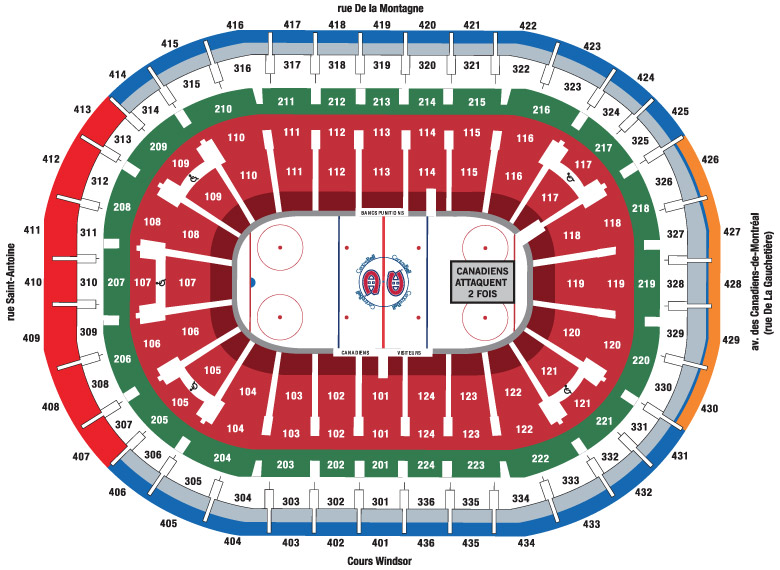 As a multi-purpose arena, Centre Bell has different seating arrangements to satisfy different event needs. The event capacities are listed below.
Hockey: 21,302
Basketball: 22,114
Concerts: 15,000
Amphitheatre: 10,000 to 14,000
Theatre: 5,000 to 9,000
Hemicycle: 2,000 to 3,500
MMA: 16,000 to 23,152
Unlike most North-American arenas, the work for Centre Bell was done with local consortium work, which gives it several unique locally-grown design features. These features include sloped grandstands to improve sightlines and washrooms on the 100 centralized level.
The venue also arranges seats in a three-tier layout, with the lower 100 section known as "the reds" since the seats are red-colored, the 200 section known as "Club Desjardins", and the upper 300-400 sections. Club Desjardins seats are premium sections between two levels of private and corporate boxes that offer larger seats, free food, and non-alcoholic beverages. The 300-400 section is divided into three zones by seat color; white, grey, and blue.
It also features a Coors Light Zone, featuring cheerleaders and a band playing in the hallway that is opposite the "Family Zone" featuring child-specific pricing and limited alcohol.
The attached seating chart will help guide you in choosing the right seat for most common events. If you have any questions, you may contact the box office at 514-989-2841.
NOTE: The seating configuration may change for different types of events. Always check the individual event seating chart when selecting your tickets.
Reserve your seats today by securing your tickets. Visit the Centre Bell schedule to see all upcoming events.
To view the ticket and refund policies please visit the ticket information page.